Vu a l'époque nous n'avions pas d'idée sur le modèle .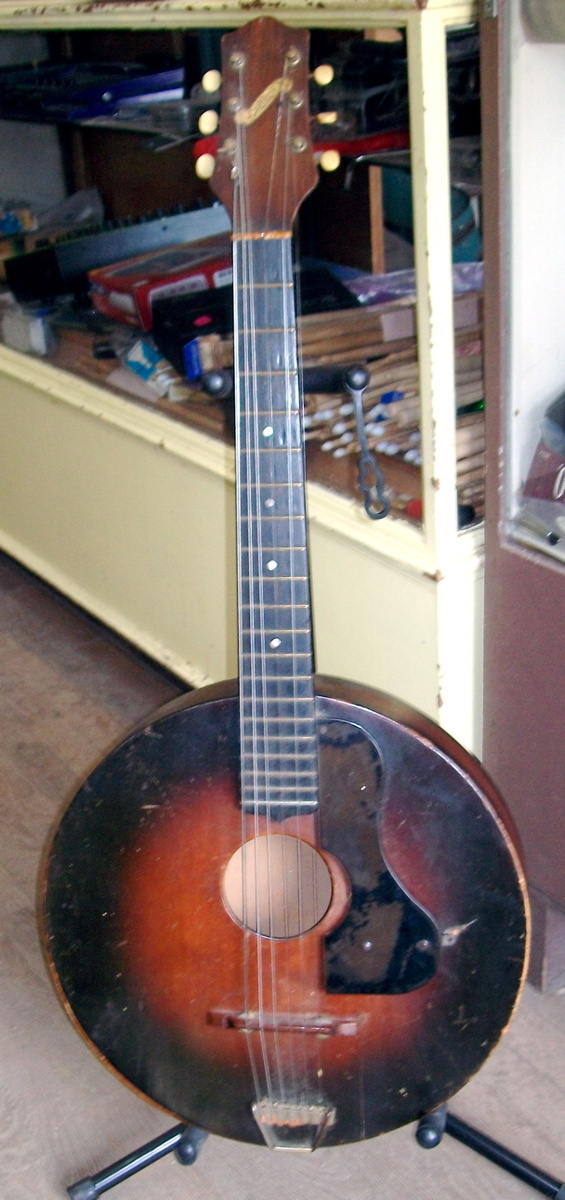 Enfin trouvé le modèle merci à ( Manuel Green )
1933 Gretsch Rhumba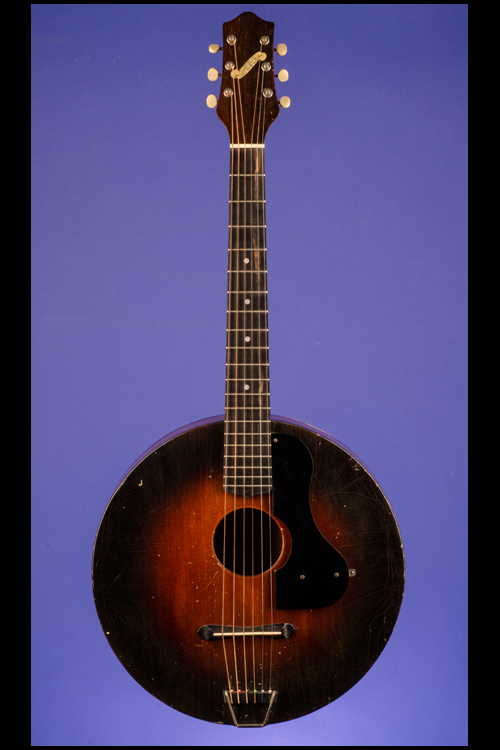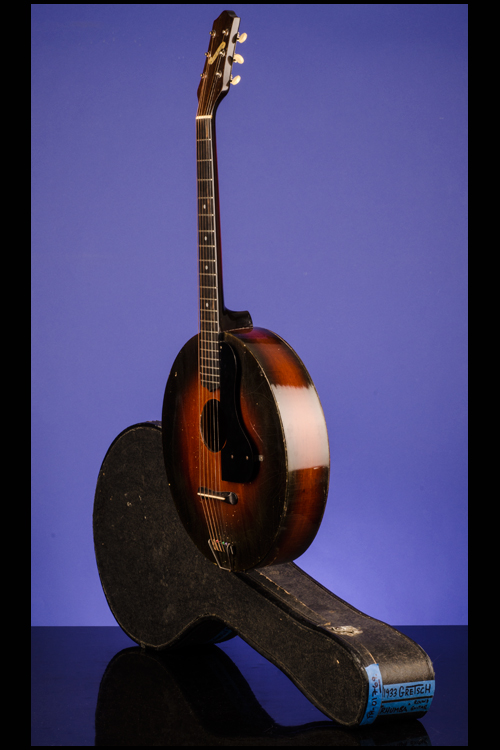 "Meant to Entice Banjo Players to the Newly Popular Guitar"
1933 Gretsch "Rhumba"
This extremely rare, 16-inch-wide, 3 1/3-inch deep, 'round banjo-shaped' flat top (actually very slightly arched) weighs just 4.60 lbs. One-piece carved spruce top with a 3 1/2 inch diameter sound hole, One-piece mahogany (very slightly arched) back and mahogany sides. Two-piece mahogany neck with a very thin maple center-strip, a nut width of just under 1 3/4 inches and a 'C' shape medium-to-thick profile. Ebony fretboard with a scale length of 24 1/2 inches, pearl dot position markers and 20 original medium-thin frets. Headstock with inlaid pearl banner with "Gretsch" engraved in black. Open-back strip tuners with white plastic oval buttons. Original 'raised' black plastic pickguard secured to body with two screws. Bone saddle on ebony base. Short metal 'Trapeze' tailpiece secured to edge of body with three screws. This wonderful example (from the renowned Chinery Collection) is in all original and exceptionally fine (9.00) condition. There is some finish checking and a few fairly insignificant surface marks and indentations especially on the body sides. Housed in the original Gretsch three-latch, shaped black softshell case with purple felt lining (8.75). This is the only example that we have ever seen - it plays very well and has a remarkably loud and distinctive sound.
"The round body of this strange, shortlived instrument was presumably meant to entice banjo players to the newly popular guitar… as the guitar began to replace the banjpo in general popularity at the end of the 1920s and into the 1930s, Gretsch for the first time started to use its own name as a brand for guitars, around 1933. These new Gretsch guitars included the unusual Rhumba… as well as the American Orchestra series of archtop acoustic instruments and a number of flat-tops such as the Broadkaster model…" (Tony Bacon. The History of the American Guitar from 1833 to the present day. pp. 60-61). (showing this actual guitar)
"Gretsch first introduced flattop acoustics around the same time they introduced archtop acoustics in 1933. However , the flattops weren't nearly as popular and very little is known about the earliest models. These models include the Broadkaster, Castillian, Rhumba and the Number 40 Hawaiian model." (Z.R. Fjested. The Blue Book of Acoustic Guitars, 11th edition, p. 280).
The Gretsch 1933 catalog (No. 33) lists the following: The Gretsch Novelty Rumba guitar - $25
Strikingly unusual in appearance and rich in tone, this new orchestra guitar excites interest where ever it is seen. Notably brilliant in the upper register it is particularly suitable for solo work. The body and neck are selected maple, finished in dark red shaded to golden amber and hand-polished. Has  full concert scale; oval ebony fingerboard joining body at 14th. The headpiece is natural rosewood with mother-of-pearl scroll. First quality patent heads.           No. 24 - Gretsch "Rumba" guitar..... Each, $25.
Rumba Guitar Case     No. 2R815 - "Utility" type: side-opening model covered with black waterproof material and full fleece lined.  Each, $4.50.
"This listing includes an illustration of the instrument, and appears on the same page as the Gretsch American Castillian model and the Broadkaster guitar model." (Courtesy Ed Ball)
Source Fretted americana inc