COLOR Jet Black
BODY STYLE Double Cutaway
SCALE LENGTH 24.6" (625mm)
TOP Archtop Maple
BACK AND SIDES Maple Body, 17" Wide, 2" Deep
NECK 3-Piece Maple
PICKUPS 2 High Sensitive Filter'Tron TM Pickups
PICKUP SWITCHING 3-Position Toggle:
Position 1. Bridge Pickup
Position 2. Bridge and Neck Pickups
Position 3. Neck Pickup
CONTROLS Volume 1. (Neck Pickup),
Volume 2. (Bridge Pickup),
Master Volume,
Standby Switch,
3-Position Toggle Master Tone Switch:
Position 1. Medium Level, High Frequency Roll Off
Position 2. Switch Out of the Circuit, Pickup is Wide Open (That Great Gretsch Sound!)
Position 3. Slight Level, High Frequency Roll Off
WIDTH AT NUT 1-11/16" (43mm)
FRETBOARD Premium Ebony, 12" Radius (305mm)
BRIDGE Ebony-Based Gold "Rocking" Bar Bridge
MUTE SWITCHES Available on all models except the first 16 that were made.
TAILPIECE Gretsch Bigsby¨ B6G Vibrato Tailpiece
HARDWARE Gold-Plated
FINISH Gloss Urethane JET BLACK
NO. OF FRETS 22 (Plus Zero Fret)
MACHINE HEADS Grover¨ Imperial TM Gold-Plated Die-cast Tuners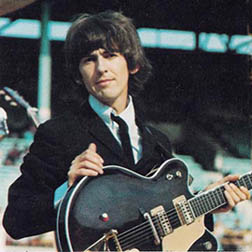 One Sunday evening in early 1964 something happened that changed the history of the world, It changed my life totally and put me on the path of my greatest love, Music !!!!!
John Paul George & Ringo playing "She Loves You", "Please Please Me" and "I Want To Hold Your Hand"
Of course TV was only black and white back then. When I saw George Harrison playing that beautiful Gretsch guitar I of course assumed it was black. Almost everyone else did too.
I had been listening to rock music for about 4 years at that time, I loved it. I had never seen a live band and I assumed that most bands were 4 guys standing next to each other on stage singing.
The night that I tuned in to Ed Sullivan and saw the Beatles USA debut, I was away from home with a bunch of other 12 year old kids. I remember it like it was yesterday. I knew I was going to play music my whole life and I knew that I would be listening to music till the day I died.
Offering this Black Country Gentleman Guitar is both a privilege and an honor. There are very few Gretsch dealers who carry this model.
I am convinced this is one of the best playing & looking guitars Gretsch has ever made.
You may call and contact me personally at the custom shop (702-875-4552) if you want to be one of the select few who will own this fine guitar.
Ed Roman