Wilkanowski
est né en Pologne en 1886.
À l'âge de 17 ans, il était un luthier qualifié.
Après être allé aux États-Unis , il a travaillé dans les ateliers de Ditson (Boston) et
Fred Gretsch ( New York City )
.
Wilkanowski
a été répertorié comme un luthier à Brooklyn en
1933
,
mais il y a au moins un violon qui a été fabriqué à Brooklyn qui remonte à
1924
.
De 1937 à 1941, il a travaillé à la fois dans une époque et un lieu réputé pour la guitare jazz .
Gretsch a offert a Wilkanowski
du travail dans un dépliant de 1940
avec le texte :
"son travail personnel ... aucune autre main ne les touche."
Ses violons ont été vendu à partir de 50-150 $.
Wilkanowski
est sensé avoir produit 5.000 violons et 100 altos en 1942.
Certains des violons de qualité supérieure ont été marquées avec un
W
marqueterie;
ces instruments sont sensés être tous de sa propre fabrication,
tandis que beaucoup d'autres ont été fait en magasins avec des assistants.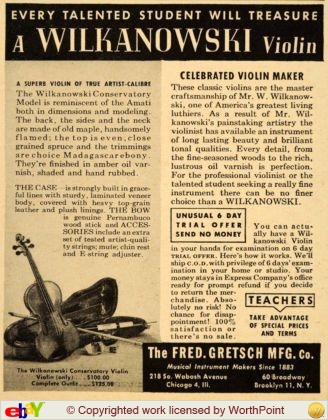 Wilkanowski
became interested in the guitar either on his own
or thru a customer request and from his violinmaker's perspective
approached guitar design in a most unorthodox way.
Wilkanowski's
guitars all seem to date from between 1937 and 1941.
Some bear labels and some do not.
This one not only carries the dated "Wilkanowski and Son Guitar Makers made in U.S.A."
label under the bass F hole but also a large handwritten
"W. Wilkanowski 1938"
signature and a small
"W.Wilkanowski"
stamp on the inside back.
What role Willi's son may have played in the making or marketing of the guitars is unknown;
no known violins are so labeled. Like this example, most of the guitars carry no apparent serial number.
Wilkanowski's
family did not continue his instrument building after the father's death in 1954.
It is possible that the guitar business was intended to be a separate entity perhaps run by his son or sons,
but either it did not prosper or may have been discontinued due to the upheavals of the Second World War.
All
Wilkanowski
guitars are built to the same general shape and size,
but variations include headstock shape, presence or absence of a logo,
fingerboard inlay, top ornamentation, soundhole shape,
types of tuners and hardware, and exact style and body width.
Some of the later guitars carry the name "AIRWAY" and/or a stylized letter "W" on the headstock,
which changes from the cast scroll sometime before 1940.
Wilkanowski's
guitars seem to go thru a rapid evolution of features in a short time,
as is typical with completely handmade instruments,
but whether these resulted from customer input or the builder's whims is unknown.
The same published 1942 estimates list 30 guitars as having been made to that point,
selling for $400 each, and no evidence suggests any were built after that.
Whether
Wilkanowski
examined contemporary guitars from Gibson
or his fellow New York builders Epiphone and D'Angelico is unknown,
but he must have been aware of these types of archtop instruments
and gotten some general ideas from them.
Certainly the quoted price reflects that he felt his instruments were the equal of a Super 400
or D'Angelico New Yorker! It is also unknown
as to whether he had any input into or was influenced by Gretch's Synchromatic line,
which was being designed and launched around 1939.
He obviously had extensive business dealings with Gretsch at the time.
This particular
Wilkanowski
guitar is both visually fabulous and a beautiful playing and sounding instrument.
It features a grafted aluminum scroll painted in faux wood grain on the headstock
which was used only on the very earliest guitars.
The paint on this piece is carefully matched and blended into the curly maple headstock both front and back.
Later
Wilkanowskis
carry a flattened oval headstock crown not unlike the familiar modern Ovation design.
The headstock itself has a pronounced rounded spine on the back,
with the tuners recessed into either side.
The neck has a rounded "V" contour and the back is unstained and lightly sealed,
in the violin builder's manner.
The rosewood fingerboard is ebony bound with a bone nut and has large pearl dot inl|
Catalogue gretsch 1939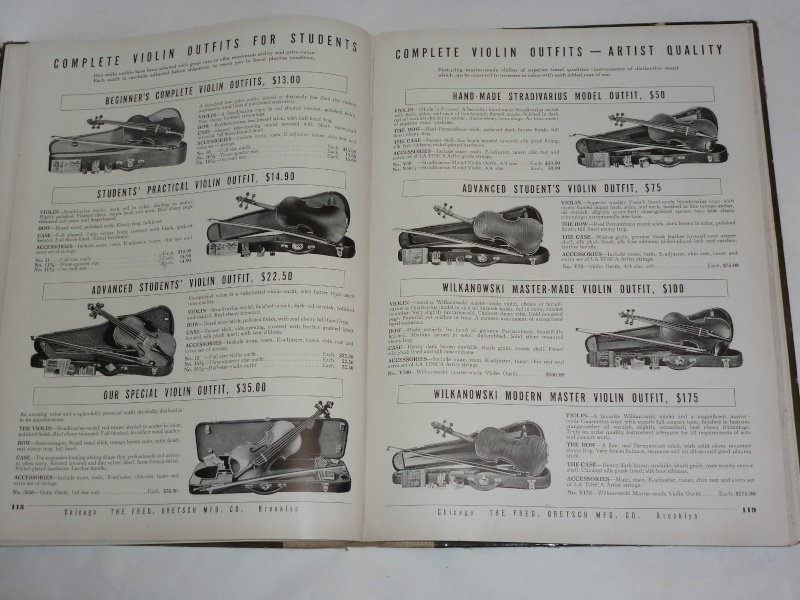 1927 4.4 W. Wilkanowski violon.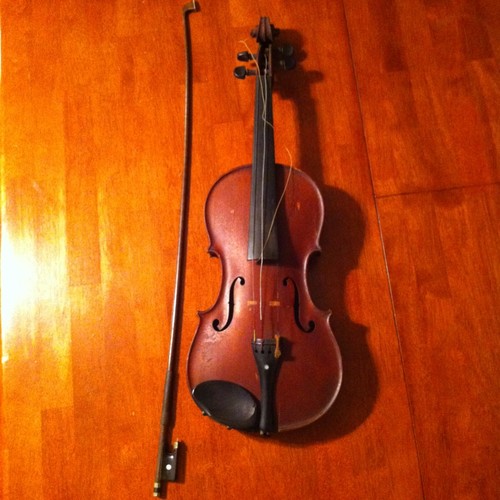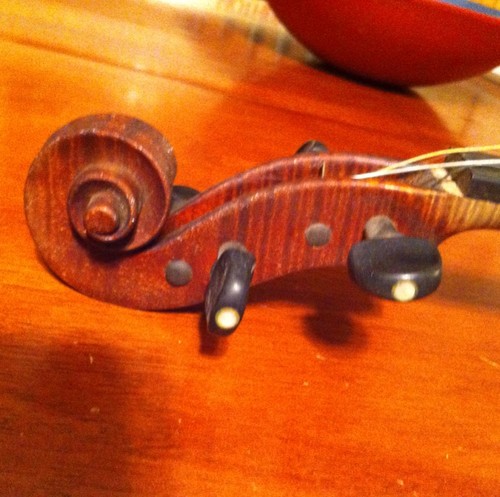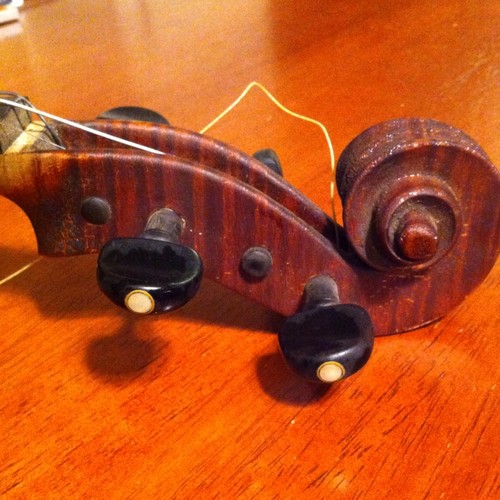 Wilkanowski Arc Acoustic Guitar Top (1937)
faite à Brooklyn, NY,finition ambre vernis, peuplier de Lombardie dos et éclisses, table en épicéa,
manche en érable, touche en ébène.
L'une des guitares les plus intéressante et inhabituelles américaines jamais créés.
Willi Wilkanowski était un constructeur bien connu de violon a Brooklyn qui, à la hauteur de "l 'ère archtop"
a créé un nombre très limité de ces guitares uniques et frappantes,
certainement pour la vente locale.
Alors que la guitare ressemble superficiellement à un violoncelle petite avec un col à six cordes,
toutes les formes et éléments de conception sont uniques.
Seule une poignée de ces guitares sont connus , et pas deux semblent identiques.
Cette guitare en particulier, et signée et datée "W. Wilkanowski 1937" est antérieure
à toute autre exemple de référence connu, et elle est certainement l'une des première construite.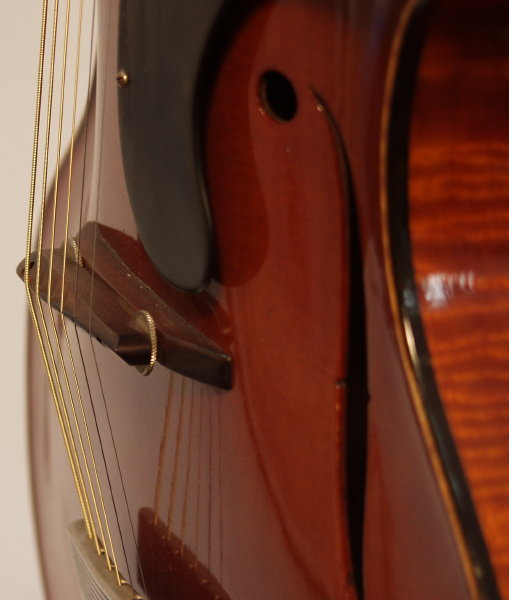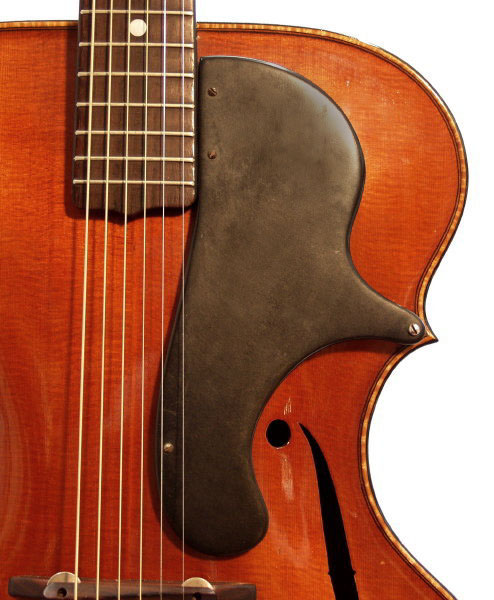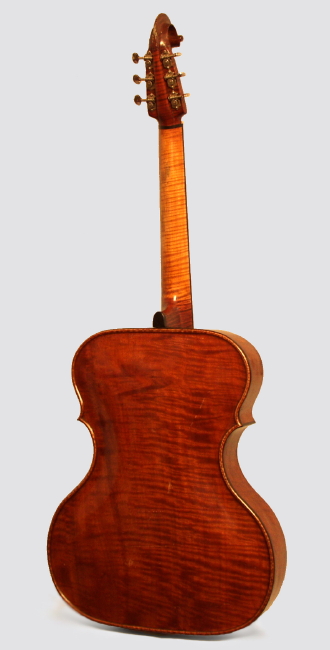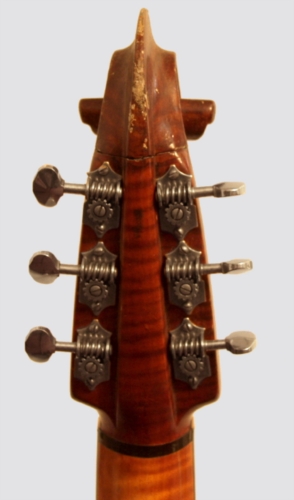 W. Wilkanowski Modèle 7273 Violon, c. 1940
4/4 size, made in Brooklyn, NY, amber varnish finish.
Overall length is 24 1/2 in. (62.2 cm.), 8 3/8 in. (21.3 cm.)
wide at lower bout, and 1 1/2 in. (3.8 cm.)
in depth at side. Scale length is 12 7/8 in. (327 mm.).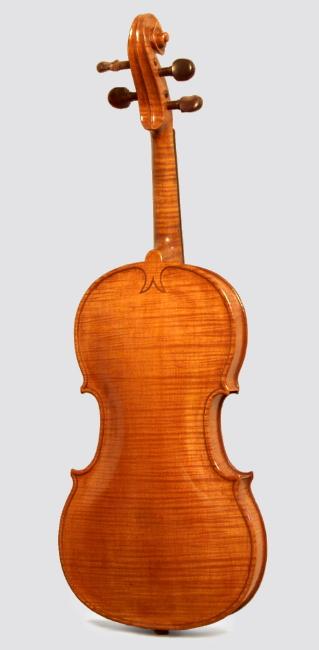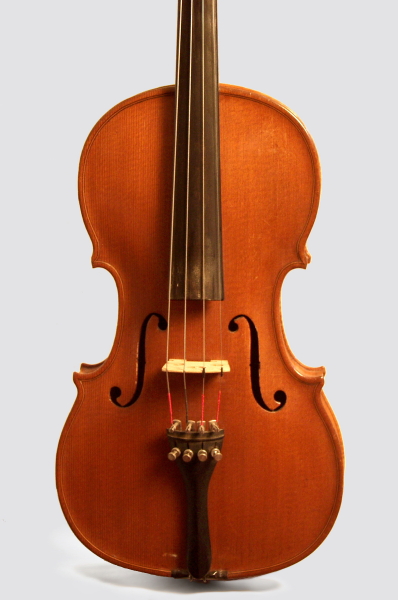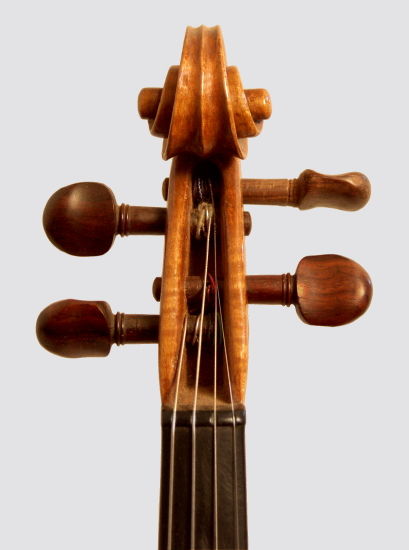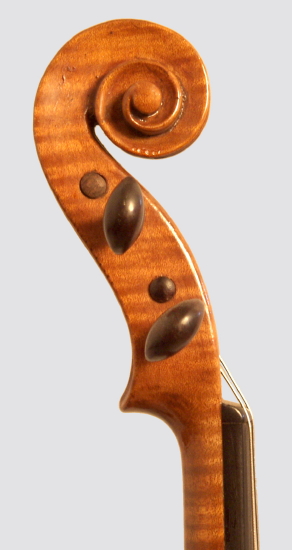 1940 Wilkanowski Poplar Cat's Eye
Highly carved spruce top.
Highly figured Poplar back and sides.
The unique Wilkanowski raised multiple wood binding.
Ebony neck. Striped ebony Pickguard and tail piece.
This honey projects like an 18 incher with more flare.
Labeled, stamped, and hand signed ''Wm Wilkanowski and Son 1940''
Wilkanowski with D'Angelico neck
and hardware Arch Top Acoustic Tenor Guitar , c. early 1940's
Wilkanowski with D'Angelico neck
and hardware Model Arch Top Acoustic Tenor Guitar, c. early 1940's, made in Brooklyn, NY,
natural finish, Lombardy poplar back and sides,
spruce top, maple neck with ebony fingerboard, hard shell case.
This particular guitar is unique in our experience.
While we have seen a number of guitars by other makers fitted out with D'Angelico necks,
this is the most eccentric "collaboration" we are aware of!
Whether this Wilkanowski guitar was originally a tenor,
converted to that format from a six-string or even finished off
from an uncompleted body by John D'Angelico is unknown, but an engaging mystery.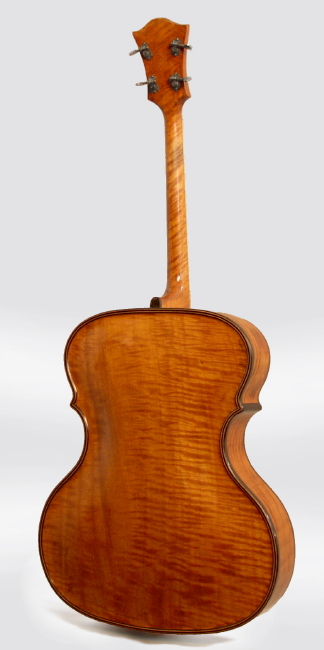 The body is in the standard Wilkanowski pattern,
with cello-like points where the upper bout slopes down towards the waist.
The soundholes are the type used on later Wilkanowski instruments:
a swooping "cat's-eye" design almost identical to the contemporary Gretsch Synchromatic style,
but curving inward rather than outward.
The neck is a standard D'Angelico Style "A" tenor pattern,
with a 23" scale and four individual Grover "Sta-Tite" tuners.
The celluloid bound ebony fingerboard and headstock have pearl block inlay but there is no logo.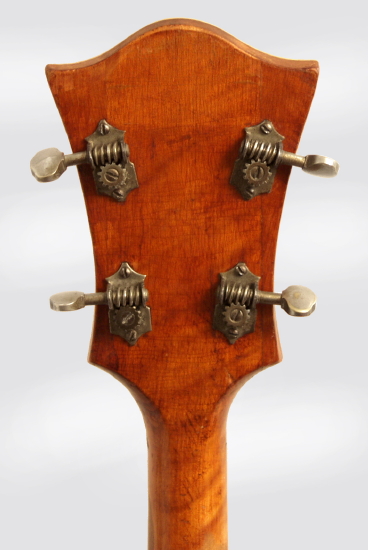 The nickel plated tailpiece is the standard 1940's D'Angelico style,
drilled for only 4 strings and with no engraved logo and the bridge is D'Angeloco's work as well.
This is one of the biggest and most powerful sounding tenor guitars we have ever encountered,
and a perfect playing instrument.
Overall length is 40 1/4 in. (102.2 cm.), 17 1/8 in.
(43.5 cm.) wide at lower bout, and 3 1/2 in. (8.9 cm.) in depth, measured at side of rim.
Scale length is 23 in. (584 mm.). Width of nut is 1 1/4 in. (32 mm.).
Wilkanowski Airway W-4 Arch Top Acoustic Guitar
Previously Owned by Johnny Cash, c. 1940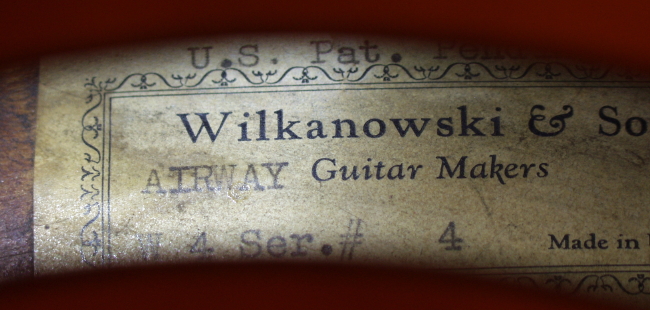 Il y a des similitudes avec (1930 "Sovereign" archtop)
Wilkanowski Airway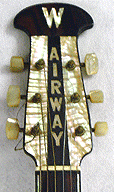 Ce modèle ce négocie dans les (40000 dollars)
il y en aurait eu que 36 exemplaires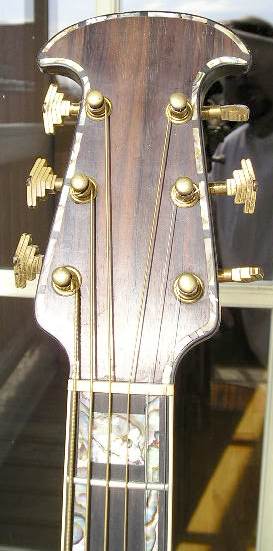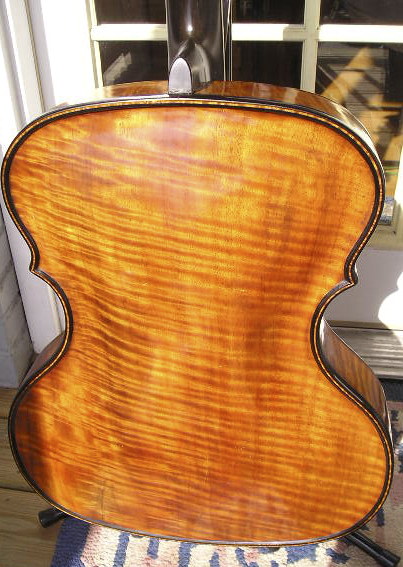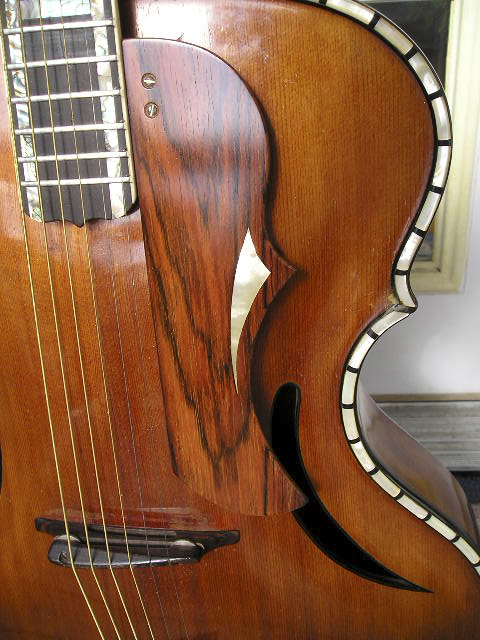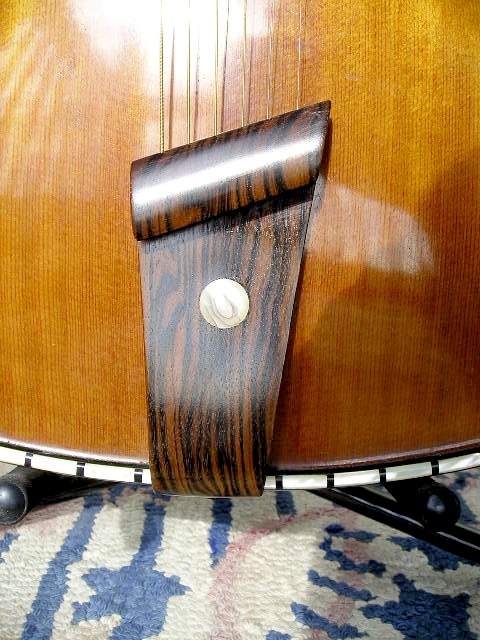 WILKANOWSKI VIOLIN AND BOW. Dated 1947 and signed
source :" wiki digplanet" http://www.gbase.com/ http://www.retrofret.com/source: http://www.musurgia.com/
http://web.iwebcenters.com/music/index2.ivnu